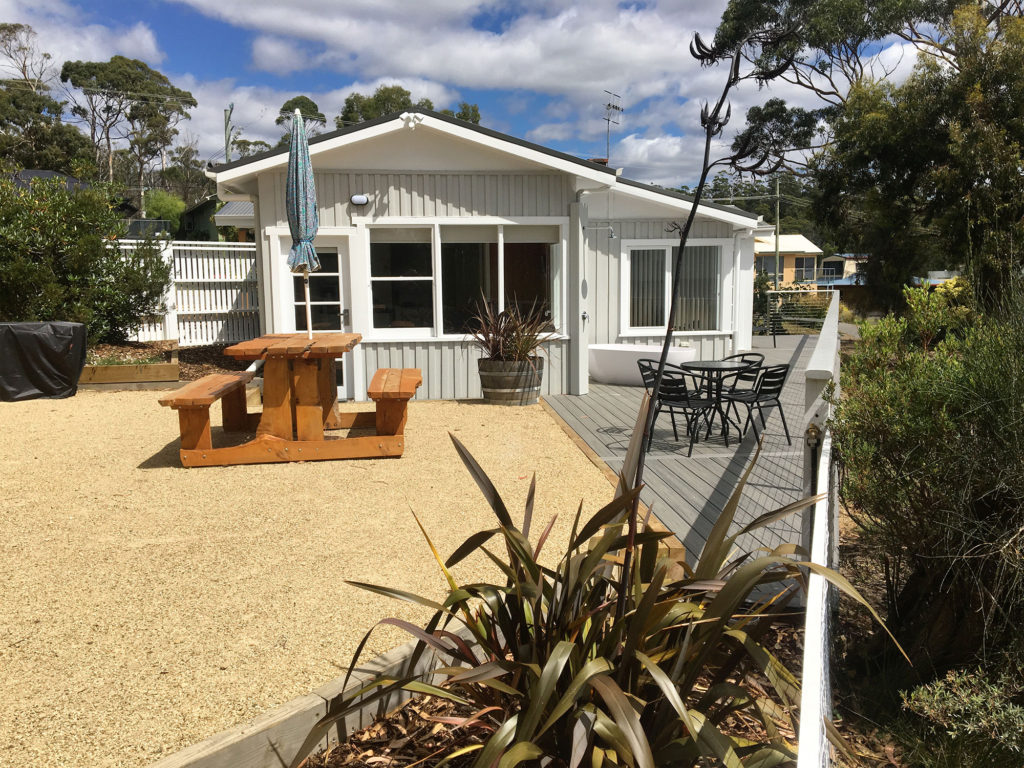 Welcome to Spring Beach Holiday House, a traditional beach shack near Orford on Tasmania's east coast. With its million-dollar ocean views and virtually waterfront position on pristine Spring Beach, the house has been enjoyed by family, friends and guests since the 1970s.
In 2016 the House was fully renovated (new kitchen, new bathroom, large new deck, polished floors, heating, etc) to provide modern quality facilities while maintaining its original homey feel.
The rustic vertical board cottage sits at the southern end of the beach, looking out over Mercury Passage to the ocean and Maria Island. It is absolute waterfront, the closest to the water of all the houses in Spring Beach, with superb views. With no roads to cross, it is 50m and a minute's walk to the beach and close enough to the ocean to be lulled to sleep by the waves at night. Much-loved by many over the years, we know you'll be seduced by this Holiday House.
The Accommodation
Modern facilities for couples, families and friends
$375/night
for two people
Spring Beach Holiday House
$50/night for each extra person.
Cleaning fee of $90 applies.
Rates are subject to change without notice.
There is no charge for infants (1 cot provided).
Check-in time is 2pm. Check-out time is 10am.
These times may be varied by prior arrangement.
If you love Spring Beach Holiday House, you'll also love our other Tasmanian holiday accommodation – cosy Carrington Cottage on Bruny Island. Enquire about our special deal for staying consecutively at both our wonderful island shacks.
Check Availability
For bookings and availability enquiries, please provide the number of guests and the dates of your stay.
How do we get there?

From Hobart, take the Tasman Highway (A3) over the Tasman Bridge, through Sorell, to Orford at the mouth of the Prosser River. Immediately before the bridge over the Prosser River, turn hard right past the supermarket onto the sealed main street (Charles Street, which becomes Rheban Road; C320). 
Continue south on Rheban Road for about 4km (5 minutes) to Spring Beach. Drive down the hill towards the beach and continue past the carpark for about 200m and over the small bridge. The Spring Beach Holiday House is the first house on the left up the hill after the bridge (about 200m). Number '371' is on the white fence.

What payment do you accept?

We accept major credit cards (Visa and Mastercard). We also accept direct deposit by arrangement.

What do you provide?

We provide all bedding/linen, bath towels, etc.  We also provide, free of charge: basic foods (coffee, tea, condiments…), firewood for the open fire (and a safety firescreen) and outdoor brazier, gas for the BBQ and pressurised water from rainwater tanks (we recommend that you boil all drinking water).

NOTE: We do not provide a cleaning service during your stay.

What do we need to bring?

Bring all food, toiletries and beach towels.

Spring Beach is 5 minutes' drive from Orford and its supermarket, pub, newsagency and post office, deli, café and restaurants.

Is smoking permitted?

Spring Beach Holiday House is strictly non-smoking.

Are pets allowed?

No, we do not allow pets anywhere on the property.

Does the house have internet access and phone coverage?

The house has NBN internet access, charge points for devices, a smart TV with Netflix, etc., and depending on your carrier, mobile phone coverage.

 

Where are the nearest petrol stations?

Petrol is not available in Orford. The nearest refuelling stations are at Triabunna (10km north towards Swansea), and Buckland (18km west towards Hobart).
Information Sheet
Download a PDF information sheet for Spring Beach Holiday House.
Two Shacks Deal
If you love Spring Beach Holiday House, you will also love our other 'island shack' – cosy Carrington Cottage at Dennes Point on the northern tip of famed Bruny Island. For ten years, we have offered to friends and guests this idyllic waterfront cottage on Nebraska Beach.